Welcome on the
Trainspotter´s Homepage!
Dear railway and tramway enthusiasts.
Be invited to my train and tram page.
Here You can get my KVB-1999 screen saver, some web files for Jan Bochmann´s program "Bahn",
additional trains for the MM and NSME screen saver. and a picture gallery
Have fun on my pages

Pierre

I also made some wallpapers for the windows dektop.
They are based on the railway screen saver by MM&MM.
Some of these locos are made by my klicking hand.
They are not available in the MM&MM railway screen saver by now.
I have to thank MM&MM for permission to put some of their drawings into my wallpaper.




Where do you want to go?
first page | previous page | next page | skip a page | last page | list of all pages | join webring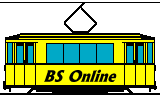 to the BS-web ring code please click at the Logo.




To the "Deutscher Eisenbahn Webring" please click at the Logo.